India Partnership (of U.S. Vineyards)
Calling and Commitment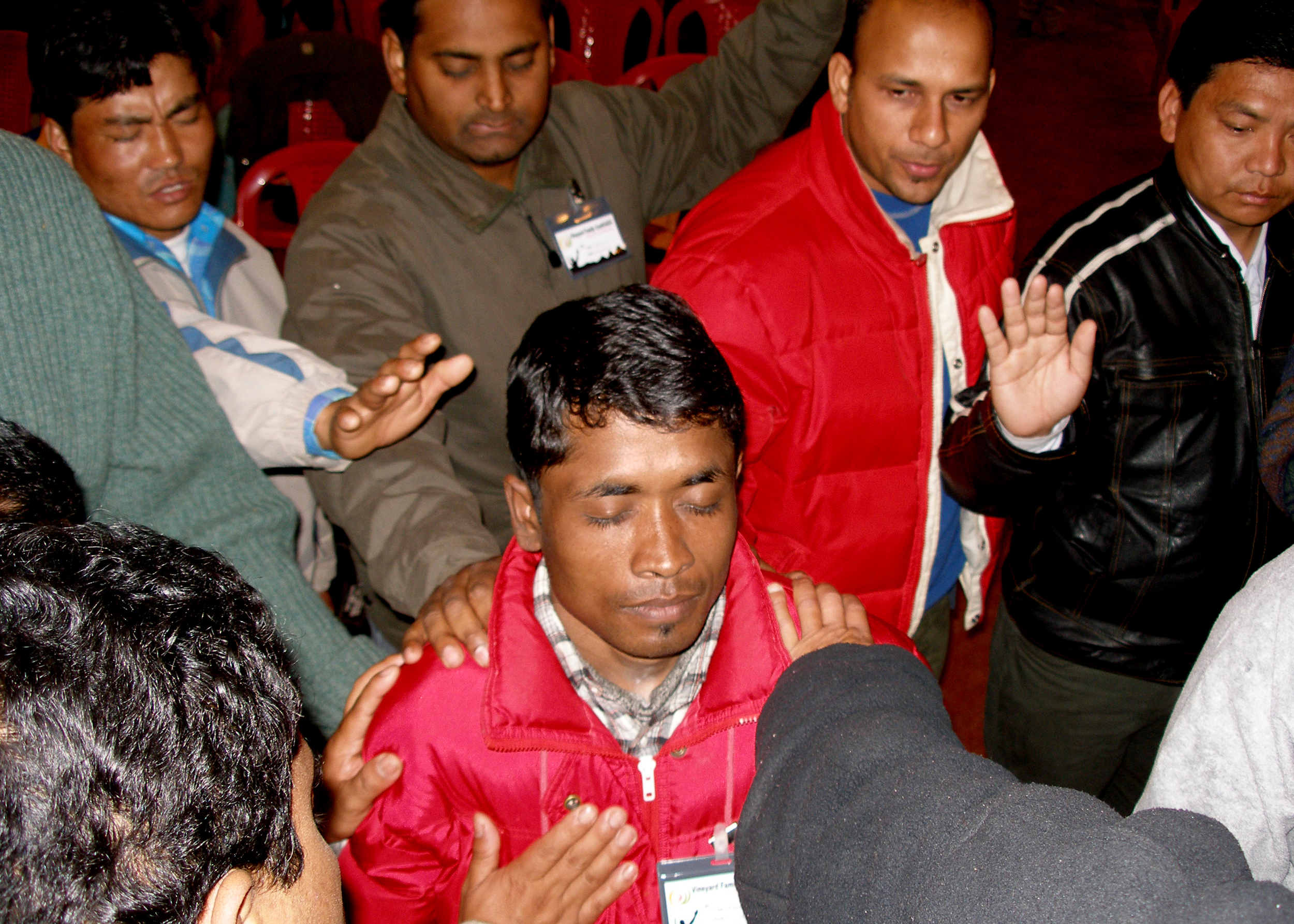 The Context and Opportunity
India is a country of over 1.3 billion lives. While the influence of Christ has had a significant influence upon India, only 2.3% of the population consider themselves to be "Christians." It is estimated that by 2050, India will have the world's largest populations of Hindus and Muslims. While formerly defined as a secularly governed nation, the current Hindi-nationalist government is increasingly putting pressure on churches and Christians, to the point of persecution.
Currently there are just over 20 Vineyard Churches in India with a wide range of size, potential and age. A significant key to having a substantial and lasting impact on a huge nation like India is partnering with others with a strategic process.
20:20 Vision
In May of 2015, the Core Team of India's Vineyard Pastors set forth the goal to plant 50 churches in the next 10 years (by 2025.) There is also a vision to target the larger "hub cities." There are 46 cities in India that have a population of over a million people. It is in these cities which the leaders of Vineyard India want to plant Hub churches. In these large cities, with big middle-class populations (as well as overwhelming opportunities to minister to the poor), there is clear potential to grow churches that will be able to not only be self-supporting but also have the resources to plant satellite churches into the surrounding towns, villages and slums. The leadership team of Vineyard India want to plant 20 of these Hub churches in the next 20 years.

Our Mission as a Partnership
The India Partnership provides a network of U.S. Vineyard congregations whose missional commitment includes furthering the Vineyard movement of expanding the Kingdom of God in India, by shaping and supporting the emergence of what is uniquely Vineyard (in theology, values, and practice)…and is joined with the strategic leadership of the Indian Vineyard leaders. This involves:
Partnering with Indian pastor-leaders to provide gatherings of leaders for the purpose of vision, training, care, and relational unity.
 
Empowering Indian pastor-leaders to best identify, recruit, train, deploy, and care for emerging pastor-leaders.
 
Supporting the goal to plant as many as 50 churches in the next 10 years (by 2025) and 20 city-centered hub churches in the next 20 years…which can then plant more rural churches in their region.
 
The Partnership supports the development of leadership and organizational management in order to become a national AVC.
Why Partnership? (The Rewards of Our Partnership)
Joining together to support the national movement of Vineyard churches in India offers a unique opportunity to…
Help build that which is bigger than any individual U.S. church could build by themselves
 
Sow that which bears distinctly Vineyard DNA and values
 
Strengthen the integrity and impact by being connected to the Core Leadership Team in India who have national perspective and proven wisdom
 
Connection between one's local church with other U.S. Vineyard "family."
 
Provide one's local church a major national venture that is also relationally real and storied (Pastors and teams can visit what is uniquely Vineyard family and ministry. Video and audio calls can be made…and even done in worship services. Vineyard India leaders plan to send a newsletter with updates, stories, and pictures twice / year starting in 2017)
Our Commitment as Partnering Churches
The India Vineyard Partnership recognizes that every local church has different resources and commitments to work with in serving the growth of the Vineyard in India. The Partnership desires to create a form of commitment that every church can enter while maintaining what is essential to a meaningful commitment, including connection, consistency, and contribution. The following elements help define such a commitment:
CONNECTION
All India Vineyard churches will seek to have at least one pastoral leader attend a Vineyard national, regional, or local area gathering in India every year.
All U.S. Vineyard churches will seek to have at least one personal visit at least every 18 months either to a national, regional, or local church gathering in India. Such trips should be coordinated with the India Core Team leaders and could be simply having one representative jon another team trip from another U.S. Partner church. An alternative at some occasion may be that of bringing an Indian leader to the U.S. to spend time with their church community.
COHESION
All U.S. and India Vineyard Partner churches will work with the strategic goals developed by the India Leadership team in conjunction with the U.S. Partnership leaders.
All India Vineyard churches will maintain regular contact with regional India leadership through phone and email…and generally participating in regional and national gatherings.
All U.S. Vineyard churches will participate in a minimum of two conference calls each year usually by means of phone or video. (This could also be served by a meeting at a National Vineyard conference if enough of the main points of contact were available.) These will be an opportunity to maintain a connection to the larger picture and strategic process...and to pray for that process. We will make every effort to accommodate to the different time zones and schedules ...understanding than some may not always be able to participate. Written summaries of the strategic goals and process will be sent to all the partners by the leader of the Partnership.
CONTRIBUTION
All U.S. and India Vineyard Partner churches will contribute financial resources to strengthen and expand the Vineyard churches in India.
All India Vineyard churches agree to give at least 3% of their communal giving towards the gathering and training of Vineyard leadership. (Managed by the India core team leader or another core team member.)
All U.S. Vineyard Partner churches agree to contribute a minimum of $1,000 USD annually into the India Partnership fund. 70% of this fund will be automatically available to the India Core Team for supporting regional and national gatherings / training, supporting initial new work, and other needs they mutually agreed upon. 30% would remain at the discretionary use by the U.S. Partnership to be decided by mutual process of partnering churches. Any portion of that 30% which is not used can be directed back to the use of the India Core Team at any point as well.
We value U.S. Vineyard Partnering churches who may also provide support for a particular Indian pastor or church, beyond their contribution to the Partnership. We welcome such support. However, we encourage that support provided by U.S. churches directly to an Indian church, be either 1) designated for special non-operational / non-ongoing needs (i.e. help with a one time need rather than salary), or 2) be set up with a relatively short "step-down" process of reduction and completion over time. (i.e. help with a church planter getting settled and developing income for one to three years.)
Note: If any partnering church is faced with unusual circumstances in any given year, which causes them to be unable to fulfill this commitment, this can be communicated and adjusted.)
Currently the Partnership funds are being managed by the Westside Vineyard who are 1) providing their business manager's time, 2) using a separate account of all funds, and 3) providing regular reports to all Partner Churches. All contributions can be made to the Westside Vineyard and marked India Vineyard Partnership (IVP budget). Statements as to the contributions and expenses can be provided at any time.

Involvement in India Apart from Partnership
We recognize that there may be U.S. Vineyard churches which are involved in India, including traveling to India to provide ministry or training, as well as financially supporting particular pastors or churches …who do not desire to participate in the India Partnership. It is our hope that such churches will see the value of partnering towards a more nationally led movement. We value whatever contribution is being made for the Kingdom of God in India and encourage whatever communication and coordination can serve our Vineyard leaders in India.

Individual Partners
The Partnership recognizes that there are individuals who have become connected to the Vineyard related work in India and would like to be a part of uniting with the Vineyards Indian and US Partners…but may be a part a church that is not involved. We welcome such individuals to become Individual Partners. Individual Partners are recognized by a commitment to any one or more of the following: 1) a strong calling and commitment for regular intercession for the Indian Vineyard leaders, churches and church planting process, 2) participation in a trip to work with the Indian leaders every 2 years or more often, 3) contributing $600 annually to the financial needs of the Partnership.

Participation of Business Leaders and Other Professionals
The Partnership recognizes that developing a Vineyard valuing expression of God's Kingdom throughout India involves the resources and gifts that reside not only in pastoral leaders, but in many business, medical, and other vocationally experienced individuals that are a part of Vineyard churches or connections. The Partnership seeks to both call upon and welcome such individuals to join in various means of serving to strengthen and expand the Vineyard church in India. This may include those who can serve in developing businesses to sustain Kingdom builders and reflect the Kingdom, medical professionals who could provide care and assistance, Biblical teachers who could provide training, counseling professionals who could provide ministry and training, and any other area where training could empower roles that serve the Vineyard churches.